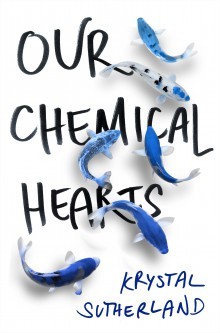 By: Krystal Sutherland
Location: FIC SUT
Genre: Contemporary Romance
John Green meets Rainbow Rowell in this irresistible story of first love, broken hearts, and the golden seams that put them back together again.
"Love doesn't need to last a lifetime for it to be real. You can't judge the quality of a love by the length of time it lasts. Everything dies, love included. Sometimes it dies with a person, sometimes it dies on its own. The greatest love story ever told doesn't have to be about two people who spent their whole lives together. It might be about a love that lasted two weeks or two months or two years, but burned brighter and hotter and more brilliantly than any other love before or after. Don't mourn a failed love; there is no such thing. All love is equal in the brain."
Henry Page has never been in love. He fancies himself a hopeless romantic, but the slo-mo, heart palpitating, can't-eat-can't-sleep kind of love that he's been hoping for just hasn't been in the cards for him—at least not yet. Instead, he's been happy to focus on his grades, on getting into a semi-decent college and finally becoming editor of his school newspaper. Then Grace Town walks into his first period class on the third Tuesday of senior year and he knows everything's about to change.

Grace isn't who Henry pictured as his dream girl—she walks with a cane, wears oversized boys' clothes, and rarely seems to shower. But when Grace and Henry are both chosen to edit the school paper, he quickly finds himself falling for her. It's obvious there's something broken about Grace, but it seems to make her even more beautiful to Henry, and he wants nothing more than to help her put the pieces back together again. And yet, this isn't your average story of boy meets girl. Krystal Sutherland's brilliant debut is equal parts wit and heartbreak, a potent reminder of the bittersweet bliss that is first love.