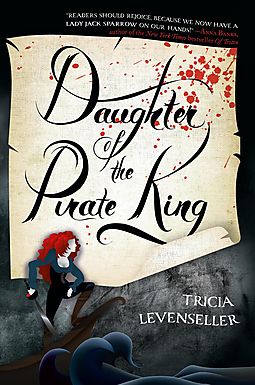 By: Tricia Levenseller
Location:FIC LEV
Genre: Rrrrrrrrrr Me hearties- Fantasy!!!
"There will be plenty of time for me to beat him soundly once I've gotten what I came for"
In Daughter of the Pirate King, debut author Tricia Levenseller blends action, adventure, romance, and a little bit of magic into a thrilling YA pirate tale.
"Alosa is so sure of herself, so skilled and so cunning that you feel her high amount of confidence in every sentence.

I personally liked her. She's entertaining. Almost like a female version of Captain Jack Sparrow, except a little more down to earth than he is – and arguably deadlier"-Lola
Sent on a mission to retrieve an ancient hidden map--the key to a legendary treasure trove--seventeen-year-old pirate captain Alosa deliberately allows herself to be captured by her enemies, giving her the perfect opportunity to search their ship.

More than a match for the ruthless pirate crew, Alosa has only one thing standing between her and the map: her captor, the unexpectedly clever and unfairly attractive first mate Riden. But not to worry, for Alosa has a few tricks up her sleeve, and no lone pirate can stop the Daughter of the Pirate King.
"I am me because I choose to be me. I am what I want. Some people say you have to find yourself. Not I. I believe we create ourselves to be what we want."