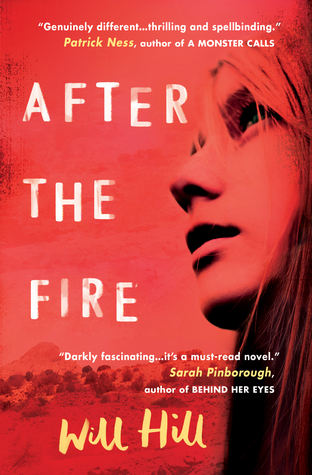 By: Will Hill
Location: FIC HILG
Genre: Contemporary Fiction
5 Words: Family, belief, control, isolation, survival.
"The things I've seen are burned into me, like scars that refuse to fade."
"Love changes how you see everything. It blinds you, but in a good way."
"After the Fire takes inspiration from the Waco Seige (1993) and follows the story of a power-hungry man in the guise of a direct messenger of God who'd go to any means to ensure all things within the cult are under his control. Father John is believed to be a righteous man of faith, respected and feared by all. However, after years of being inside the Fence, Moonbeam has come to question everything around her, and finds herself in quite the dilemma when things happen that make her question her very faith. After a dreadful fire leads her to be placed under the care of the Government at a Municipal Centre, Moonbeam is made to relive her life inside the cult in the presence of her psychologist, Dr. Hernandez, and an FBI agent, Agent Carlyle. What follows is a riveting story of survival, acceptance and freedom.

While the storyline is gripping in itself, the author does himself proud by weaving together a suspenseful page-turner that wouldn't fail to keep you up reading late into the night- it certainly did me!
"I look back, and I think, and I try to be strong. It's painful, because there was a time, a long time, when I believed every word Father John said. Before my mother was Banished, I believed in him, and in the Legion, with all my heart, and part of me misses - will always miss - the certainty that came with that, the power and the pride that came with being part of something that was right and True."

Moonbeam was a fantastic protagonist, and I loved how her character arc progressed. We see her go from a girl full of faith and belief to being full of doubt and fear, and we see how she learns to put everything behind her and grow as a person, slowly learning to trust those who rescued her. You can put yourself right in Moonbeam's shoes as she finds herself in a place she never imagined herself to be in, and as she tries to come to terms with what happened to her and her Brothers and Sister in the cult. You'd find yourself rooting for her, for them, until the very end. Apart from Moonbeam, I also loved reading about Dr. Hernandez and Agent Carlyle. They turned out to be incredibly supportive and caring, and I'm glad they were there for Moonbeam until the very end.

We are told in the author's note all about how this riveting book was inspired by a real-life American cult, and it's all just so chilling to think about. While going into this book I did know that, I was so not prepared for the journey it took me on. We see how one man's greed for power leads to corruption and destruction, and how he strives to achieve his own ends by twisting faiths and beliefs of many, come what may. We see what happens to the lives that are entangled in this, and knowing that something similar, something possibly worse, happens, did happen, in real life is at times too much to process. The realism is just so brilliantly realized and jolting.

After the Fire is a suspenseful, harrowing story of survival about a girl brought up within a cult, who's suddenly made to question everything she ever believed in. A must-read!"
Ruzaika Deen- Goodreads.com